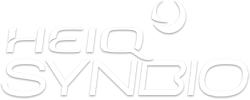 SYNBIOTICS FOR PRODUCTION ANIMAL CARE IN AGRICULTURE
Bring nature into your barns – Strong animals with probiotic hygiene
Strong, productive animals
Support natural immune system
Create balanced microbiome
Lower antibiotics use
Keep ammonia & humidity low
Keep litter & hay dry
Our HeiQ Synbio animal care products limit opportunities for infections and lower the need for antibiotics.
Designed in nature, perfected by science, we use synbiotics, a patented, unique synergy of probiotics (good bacteria) and prebiotics (good sugars) as active ingredients in our animal care products.
Synbiotic hygiene has proven its worth on farms in the UK, Canada, South Africa and Germany, and is slowly rolling out across the world. Animal care supported by HeiQ Synbio results in and happy livestock and happy owners.
Synbiotics for cleaner water lines
Powerful synbiotic concentrate for the removal of biofilm and maintenance of beneficial bacteria in water lines. Improved water microbiology that reduces the risk of problems associated with poor water quality.
Synbiotics for animal housing cleaning
Strong biodegradable cleaning for the removal of biofilm on surfaces. Deep microscopic removal of dirt from the smallest impurities on a surface.
Fogging with synbiotics for a balanced microbiome on surfaces
Animal Housing Stabilizer
Concentrated biodegradable fluid enriched with synbiotics, used for fogging onto surfaces. It is primarily used to populate surfaces with beneficial bacteria and create a dry environment to improve air quality and reduce smell.
HeiQ Chrisal N.V.
Priester Daensstraat 9
3920 Lommel
Belgium
Phone: +3211548000
WHAT IS THE PROBLEM?
Since the 1950's, our medical and veterinary professionals have used antibiotic, biocidal (disinfectant), and antiseptic products to control harmful bacteria.
Excessive use of antibiotics and harsh disinfectants has led to a growing antibiotic resistance in livestock, with disease causing bacteria having developed antimicrobial resistance (AMR), a growing concern worldwide
Antibiotic resistance is a problem for animal health and in turn a problem for people who consume "resistant" meat.
When floors in barns are dominated by faecal bacteria instead of harmless or even beneficial bacteria found in natural soil, the risk of contracting bacterial diseases is high
Drinking water is polluted by biofilm, pipes need to be cleaned out regularly
WHAT IS OUR SOLUTION?
Designed in nature, perfected by science, our synbiotic products for animal care support a balanced microbiome for animals on farms. Farms in the UK, Canada, South Africa and Germany that use animal care supported by synbiotics see excellent results:
Strong, productive animals
Balanced microbiome with limited opportunities for infections
Lower need for antibiotics, which in turn lowers the risk of creating antibiotic resistant organisms
Efficient removal of organic dirt in water installations
Drastically reduced ammonia levels
Dryer litter & hay
HeiQ Synbio strategic partner Pruex wins 2021 Agri-Tech Excellence Award for UK innovation
Pruex helps farmers find and combat the source of infections on their farms, supporting a change in hygiene and husbandry strategies. Pruex is HeiQ Chrisal's exclusive partner for farming in the UK.
The UK agri-tech awards champions agricultural innovators that make a significant sustainable impact on-farm. Pruex won the agri-tech award 2021 for their automated spraying systems and their successful trials with probiotics on a customer's chicken farm. HeiQ Synbio was sprayed to provide a better-balanced environment for the hens and the staff.
The synbiotics dried up the chicken litter and reduced the moisture content in the muck on the belts by over 50%. This resulted in the frequency of manure belt mucking being slashed from every three days to once a fortnight, reducing labor requirements by more than 75%.
Alongside drying up litter, ammonia levels were reduced inside the building and the stored muck, air quality was improved within the sheds, reducing the risk of dominating disease bacteria. Bird mortality was reduced by over 1%, with zero requirement for antibiotics in the flock.  The optimized egg production saved GPD 12,000 per flock, while reduced feed requirements without losing production led to further cost savings.
Partner up with us!
Synbiotic ingredients
We share our patented synbiotic technology to strengthen your products and offer:
Ingredients to augment your own formulation (OEM partnership with HeiQ)
Private label (white label) formulation, for you to rebrand our ready-to-use animal care formulations as your own
"HeiQ Synbio" as an ingredient brand to add to your own formulations
ABOUT OUR PROBIOTICS
All probiotic bacterial strains are naturally occurring soil microorganisms that have not been changed by recombinant DNA techniques (not manufactured with genetically modified organisms)
The components of probiotics are readily biodegradable, and their degradation products are considered safe for fauna and flora.
All probiotics used belong to Biosafety Level (BSL) 1 and are not considered pathogenic
Our prebiotics and probiotics meet the criteria for use in cosmetics where the mandatory dermatological tests have been successfully performed
Downloads
Curious to explore further? Enhance your knowledge by downloading our comprehensive catalog and informative flyers here.
LEARN ABOUT OTHER SYNBIOTIC APPLICATIONS