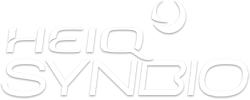 SYNBIOTICS FOR HORSE CARE
Probiotic hygiene – Because we love horses!
Designed in nature, perfected by science, we use synbiotics, a patented, unique synergy of probiotics (good bacteria) and prebiotics (good sugars) as active ingredients in our horse care products.
Horses are highly sensitive and delicate animals. As in humans, stress and other factors can weaken their natural immune system and pave the way for diseases and inflammations. Harsh disinfection measures to help maintain hygiene in horse stalls can unbalance the horse's skin microbiome.
HeiQ Synbio-based horse products, with their special probiotic formula, rely on the protection of a natural microbiome on the skin and are pH neutral. A positive microbiome is always designed for a healthy balance of microorganisms and supports the natural defense mechanisms.
HeiQ Synbio horse care products
HEIQ SYNBIO FOR WATER LINES
Powerful synbiotic concentrate for the removal or organic pollution and maintenance of beneficial bacteria in water lines. Improved water microbiology that reduces the risk of problems associated with poor water quality.
HEIQ SYNBIO FOR SURFACE CLEANING
Strong biodegradable cleaning for the removal of biofilm on surfaces. Deep microscopic removal of dirt from the smallest impurities on a surface.
HEIQ SYNBIO FOR AIR FOGGING
Concentrated biodegradable fluid enriched with synbiotics, used for fogging onto surfaces. It is primarily used to populate surfaces with beneficial bacteria and create a dry environment to improve air quality and reduce smell.
HEIQ SYNBIO HORSE CARE PRODUCTS
We offer ready-to-use horse care product to improve the hygiene of horses to support their overall health and performance.
Partner with us!
Synbiotic ingredients
We share our patented synbiotic technology to strengthen your products and offer:
Ingredients to augment your own formulation (OEM partnership with HeiQ)
Private label (white label) formulation, for you to rebrand our ready-to-use animal care formulations as your own
"HeiQ Synbio" as an ingredient brand to add to your own formulations
ABOUT OUR PROBIOTICS
All probiotic bacterial strains are naturally occurring soil microorganisms that have not been changed by recombinant DNA techniques (not manufactured with genetically modified organisms)
The components of probiotics are readily biodegradable, and their degradation products are considered safe for fauna and flora.
All probiotics used belong to Biosafety Level (BSL) 1 and are not considered pathogenic
Our prebiotics and probiotics meet the criteria for use in cosmetics where the mandatory dermatological tests have been successfully performed
HeiQ Chrisal N.V.
Priester Daensstraat 9
3920 Lommel
Belgium
Phone: +3211548000
LEARN ABOUT OTHER SYNBIOTIC APPLICATIONS